Domestic bases/Kinki, Chugoku & Shikoku
North Gate Building 23F, 3-1-3 Umeda, Kita-ku, Osaka 530-0001
TEL : 06-7638-2336 FAX : 06-7638-4170
North Gate Building 23F, 3-1-3 Umeda, Kita-ku, Osaka 530-0001
TEL : 06-7638-3016 FAX : 06-7638-3017
North Gate Building 23F, 3-1-3 Umeda, Kita-ku, Osaka 530-0001
TEL : 06-7638-4077 FAX : 06-7638-4053
North Gate Building 23F, 3-1-3 Umeda, Kita-ku, Osaka 530-0001
TEL : 06-7638-4171 FAX : 06-7638-4170
7-32 Naka-machi, Naka-ku, Hiroshima-shi, Hiroshima 730-0037 (Nissei Hiroshima Bldg. 5F)
TEL : 082-249-7515 FAX : 082-249-4942
2-4-2 Kitano,Sennan-shi, Osaka 590-0532 Japan
TEL : 072-468-8630 FAX : 072-468-8654
2-3-15 Minowa, Higashiosaka-shi, Osaka 578-0914
TEL : 072-963-1021 FAX : 072-964-7389
Storage Facilities

Structure : Reinforced concrete, three-story building
Warehouse area: 10,665.57m2
Site area: 7,928.43m2
Main cargo handling facilities

| Type | Capacity | Quantity |
| --- | --- | --- |
| Elevator | 2.0t | 1 |
| Vertical conveyor | 1.5t | 2 |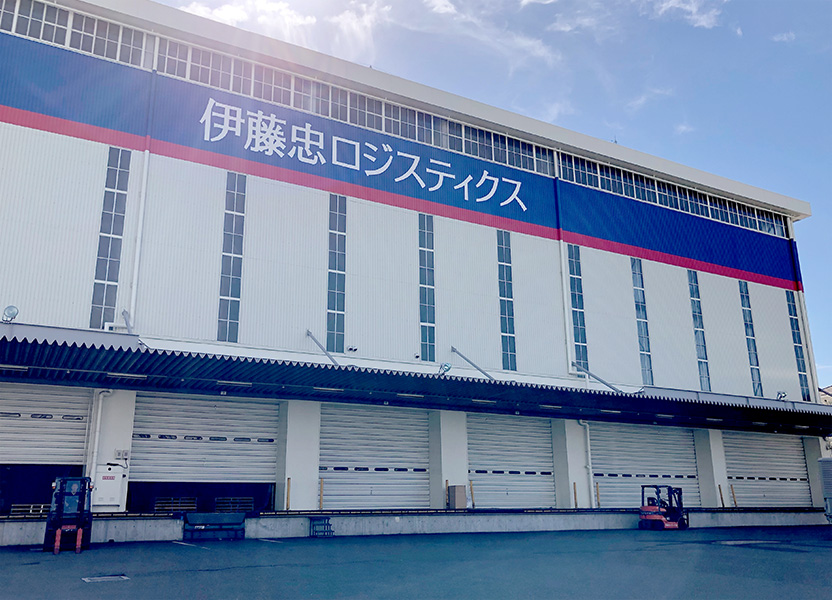 1-7, Shodaitajika, Hirakata-shi, Osaka 573-1132
Access

10 minutes by taxi from Keihan Kuzuha Station, 4 km from the Hirakata-Higashi Interchange on the Daini-Keihan Road
Storage Facilities

Site area : 14330.56 m2
Warehouse area : 19709.06 m2
Other information

Completed : May 2003
Pharmacist : 2 on-site pharmacists
Main products handled

Pharmaceuticals (prescription), quasi-drugs, medical devices
Main Facilities

Fully air-conditioned (1-30℃)
Refrigerated warehouse: 1656.2 m2 (1℃ - 5℃ and 2℃ - 8℃)
Hazardous materials warehouse: 99.17 m2 (Designated quantity: 50 times)
In-house power generation
Features

Partially equipped with mobile racks, we offer storage methods tailored to the characteristics of the shippers.
In operation as a joint pharmaceutical distribution center covering the western Japan.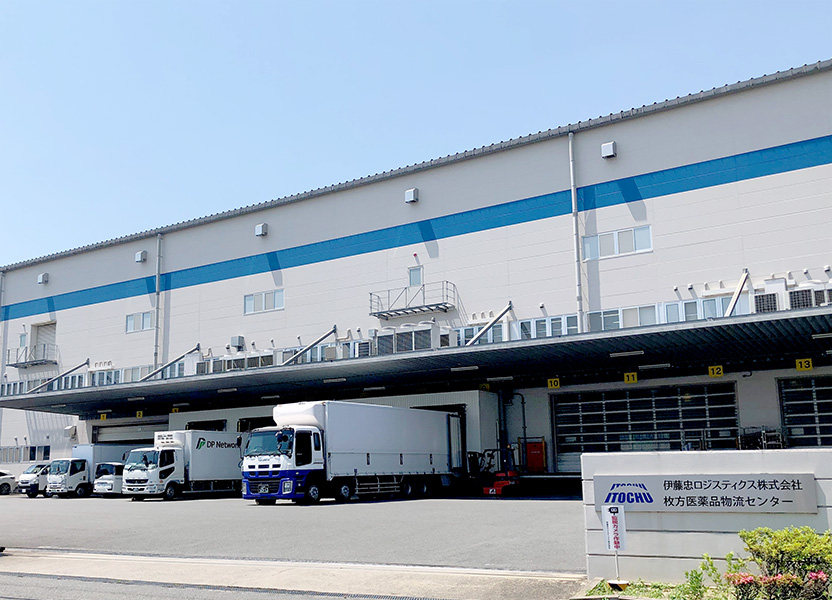 2-30 Shindenkita-machi, Daito-shi, Osaka 574-0052
Access

1.5 km from Kadoma junction on Kinki Expressway, 10 minutes by taxi from Kadoma-minami Station on Tsurumi-ryokuchi Line or JR Suminodo Station
Storage Facilities

Site area : 6,462.8 m2
Warehouse area : 6,446.27 m2
Other information

Completed : February 2002
Pharmacist : 1 on-site pharmacist
Main products handled

Pharmaceuticals (over-the-counter and prescription), quasi-drugs, cosmetics, pharmaceutical ingredients
Main Facilities

Fully air-conditioned (1-30℃)
Refrigerated warehouse: 46.28 m2
Features

Established a joint distribution network for same-day delivery to drugstore logistics C as a joint distribution center for OTC manufacturers.
1531-18, Wadahama, Toyohama-cho, Kan-onji-shi, Kagawa 769-1602
TEL : 0875-52-3118 FAX : 0875-52-5452
Storage Facilities

<Material Center No.1>
Structure : Steel-framed, steel-sheeted, single-story building
Warehouse area: 7,260m2

<Material Center No.2>
Structure: Steel-framed, steel-sheeted, single-story building
Warehouse area: 5,610m2

Total: 12,870m2