Automotive Industry
We have a solid track record in all aspects of logistics, including automobile manufacturing, import/export, and distribution
We provide all aspects of automotive logistics around the world, including "transportation of finished vehicles", "production parts", "spare parts", "production equipment", "motor pool operations", and "parts storage".
We are experienced in milk run*1 and JIT*2 deliveries to plants, so please contact us if you are in need of our services.

*1 The milk-run method is a transportation method named after dairy manufacturers make a round to collect raw milk from each dairy farm. In automobile assembly, in contrast to the JIT method (see below), the manufacturer collects raw materials and parts from suppliers by making rounds.
*2 The JIT (just-in-time) method is an approach to minimize excess inventory by planning and delivering materials based on the estimation of what, when, and how much will be needed at any given time.
Comprehensive logistics services for finished vehicles in Thailand
We provide motor pool operation services for finished vehicles of Japanese automobile manufacturers.
Our main services include transportation, storage, receiving and shipping of finished vehicles manufactured in Thailand and Indonesia to the motor pool, transportation of finished vehicles to dealers in Thailand, and transportation of finished vehicles for export to overseas destinations.
In addition, we provide comprehensive services to our customers, including PDI (pre-delivery inspection), sticker application, installation of accessories and car washing before shipment.
(End-to-end) Multimodal Transportation Services for Automobile Parts
Supply chain management with high value-added (end-to-end) multimodal transportation services
We provide customized logistics services to meet customer needs through one-stop (end-to-end) multimodal transportation, including marine/air transportation from overseas to Japan, warehousing services at optimal points according to customer needs, and JIT*1 delivery that includes cargo rearrangement and inspection according to recipient's requirements. Currently, we ocean-transport from China to Nagoya / Tokyo ports, temporarily store the cargo at our suburban Nagoya warehouse or automobile parts warehouse in Tochigi prefecture, convert the cargo into a form specified by the recipient, and then JIT-delivered.
*1 An initiative to minimize excess inventory with planned deliveries based on assumptions of what, when, and how much materials will be needed at any given time.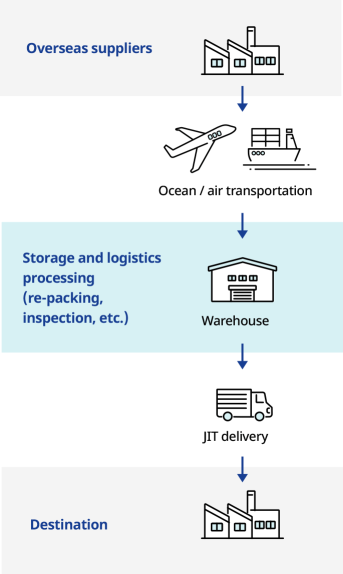 Comprehensive Logistics Services in the U.S.
Responding to the diverse logistics needs of the United States, a superpower, with our experience
With a total of 48 employees, our five bases in New York, Chicago, Kentucky, Michigan, and Los Angeles cover the logistics needs of the United States, which has the world's largest GDP, the third largest population, and an area approximately 26 times the size of Japan.
The company provides comprehensive logistics services tailored to customer needs, making full use of its international forwarding, inland transportation, and warehouse management functions.
The main commodities handled include a variety of commercial products such as automotive parts, production equipment, consumer goods, and food, mainly in the Midwest, a region with a high concentration of Japanese manufacturing companies.
We offer a diverse range of services, from the operation of the vender managed inventory of manufacturers' plants to the storage and shipment of goods for stores and e-commerce, as well as JIT*1 deliveries.
In addition, we have established a subsidiary in Irapuato, Mexico to provide logistics and consulting support to Japanese firms, primarily automotive-related manufacturers, and offer services such as production equipment transportation and installation, as well as land transportation services between the U.S. and Mexico, which have been rapidly increasing in recent years, in cooperation with our bases in the United States.
*1 JIT (Just in Time) delivery is an initiative to minimize excess inventory with planned deliveries based on assumptions of what, when, and how much materials will be needed at any given time.
Integrated Logistics Services (Europe)
Integrated Logistics Services to Japanese Automobile Assembly Plants in Europe
Eurasia Logistics provides comprehensive logistics services to Japanese automotive assembly plants in Hungary.
Parts Logistics: CKD*1 from Japan stuffed in Ocean container, Many kinds of parts from suppliers in European countries
On-site logistics operation: Parts warehousing in assembly plants, operation of motor pools for finished vehicles
Finished vehicle transportation: Transportation of Finished vehicles (truck, rail, and marine) within Europe and to Japan, Central and South America, Oceania, and other countries.
In addition, our service menu also includes support for local procurement of parts, including involvement in commercial distribution, supply of packaging materials, and transportation and installation of production equipment and machinery. Our services are available not only to automotive assembly plants but also to parts suppliers.
*1 CKD (Complete knock-down) refers to a kit of parts for a single automobile that allows the entire vehicle to be assembled locally.
Vehicle Transportation to Mongolia
Responding to the cargo backlog on the route from Tianjin through the China-Mongolia border, we achieved an alternative transportation service from Wuhan
Mongolia relies on imports for many of its daily commodities, and the route from Tianjin through the China-Mongolia border is a major logistics artery for the Mongolian market. However, due to the recent surge in ocean freight rates to Europe, cargoes bound for Europe have been pouring into this route. Coupled with China's policy of giving priority to Europe, a large volume of cargoes bound for Mongolia have been stuck in Tianjin.
Therefore, we proposed an alternative block train transportation service from Wuhan to Mongolia. Under the supervision of our Shanghai subsidiary, a single-car, block-train with 50 containers ran from Wuhan to the China-Mongolia border.
While many cargoes were held up on the existing route, the completed vehicles, arrived safely in Mongolia by the delivery date, and 100 vehicles transported were sold out on the same day, earning strong evaluations from the local customer.
As a pioneer in transportation to Mongolia, we will continue to make flexible proposals in response to current trends and optimize logistics.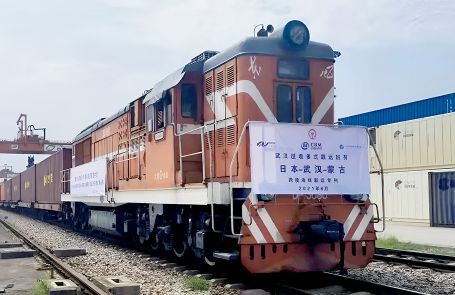 Import Customs Clearance Services for Mexico
Mexico's Previo (customs broker's voluntary inspection) has many disadvantages and tends to be a vested interest for customs brokers to collect additional fees. There is little advantage for the importers, particularly for equipment customs clearance. We avoid this Previo, and achieve on-time delivery, reduced extra costs, and safer transportation.

Taking on the challenge of business that goes beyond logistics on the global stage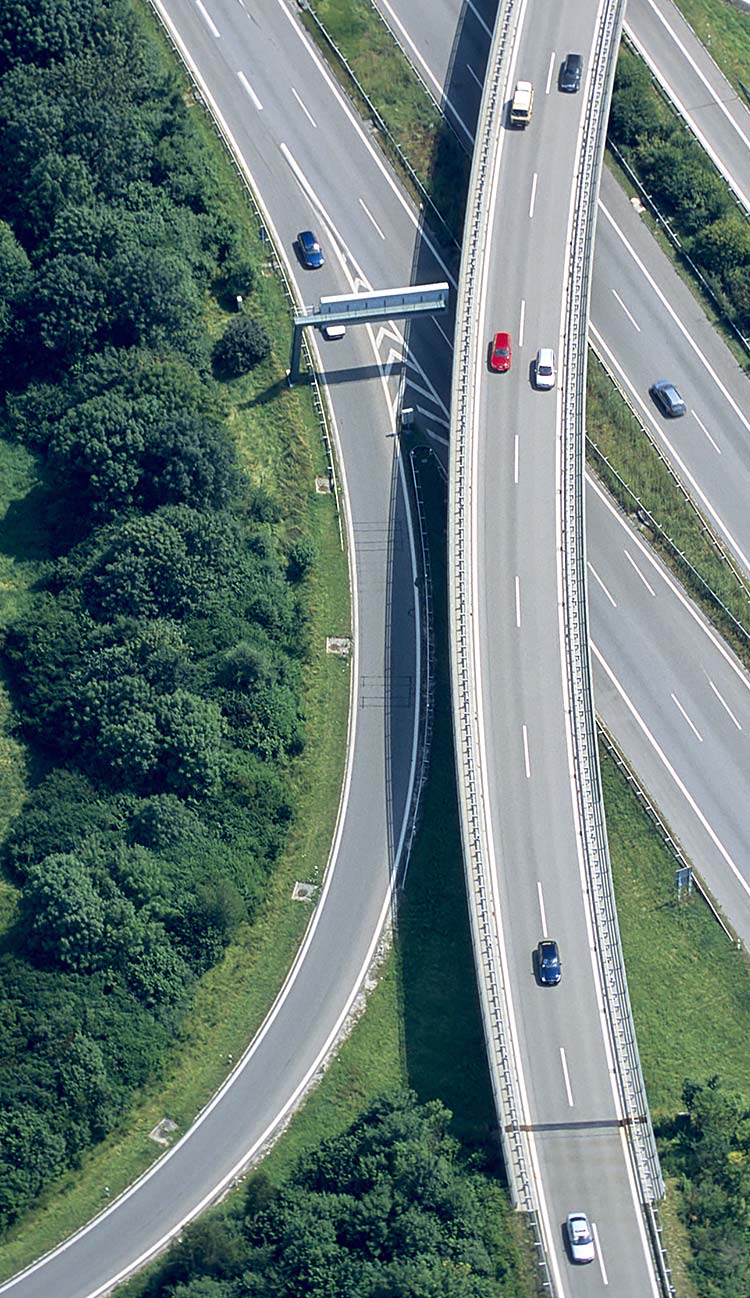 Taking on the challenge of business that goes beyond logistics on the global stage
Domestic & Overseas bases
Domestic bases
Overseas bases