International 3rd Party Logistics
(China, North America, India, Others)
We bring a wealth of logistics expertise to China and India, which have grown into huge consumer markets
To promote overseas expansion, it is important to work together with a global logistics company that is well versed in overseas markets.
We support our customers' overseas expansion by leveraging our strengths as a trading firm-affiliated logistics company, with our extensive information network, number of bases, and track record accumulated over many years.
We deliver "Japan-quality" logistics services throughout the world.
E-Commerce Logistics in China, handling approximately 7 million orders
A total of 6.97 million orders received and shipped at China's giant EC event "W11"
China has its largest online shopping spree on November 11, commonly known as "W11 (bachelor's day)," and the total number of packages on that day in 2021 was 1.16 billion, making it a massive event.
W11 is said to have originated as an event for singles initiated by college students in the 1990s, and is an EC event comparable to the Christmas shopping season in terms of gift-giving.
The e-commerce site Alibaba initiated the implementation of the event, and since orders and shipments are dozens of times larger than normal, it is necessary to temporarily increase staffing to accommodate this.
The E-Commerce Logistics will now unfold in two phases, a pre-sale from November 1 to 3 and on the day of November 11, which will also cause an explosion in logistics.
Our group company in China (ITOCHU LOGISTICS [CHINA] CO., LTD.) is one of the first Japanese logistics companies to cultivate E-Commerce Logistics and W11 know-how and will support customers in the logistics aspect.
Since the volume of goods increases explosively from the normal period, we carefully prepare for this by securing temporary warehouses and workers in advance. In addition, we are introducing machinery to improve work efficiency.
During W11 in 2021, we received and shipped a total of 6.97 million orders (12.38 million PCS).
Comprehensive Logistics Services in the U.S.
Responding to the diverse logistics needs of the United States, a superpower, with our experience
With a total of 48 employees, our five bases in New York, Chicago, Kentucky, Michigan, and Los Angeles cover the logistics needs of the United States, which has the world's largest GDP, the third largest population, and an area approximately 26 times the size of Japan.
The company provides comprehensive logistics services tailored to customer needs, making full use of its international forwarding, inland transportation, and warehouse management functions.
The main commodities handled include a variety of commercial products such as automotive parts, production equipment, consumer goods, and food, mainly in the Midwest, a region with a high concentration of Japanese manufacturing companies.
We offer a diverse range of services, from the operation of the vender managed inventory of manufacturers' plants to the storage and shipment of goods for stores and e-commerce, as well as JIT*1 deliveries.
In addition, we have established a subsidiary in Irapuato, Mexico to provide logistics and consulting support to Japanese firms, primarily automotive-related manufacturers, and offer services such as production equipment transportation and installation, as well as land transportation services between the U.S. and Mexico, which have been rapidly increasing in recent years, in cooperation with our bases in the United States.
*1 JIT (Just in Time) delivery is an initiative to minimize excess inventory with planned deliveries based on assumptions of what, when, and how much materials will be needed at any given time.
Providing logistics services in the Indian market with a population of approximately 1.4 billion
Meticulous logistics and transportation network service to 400 cities dispersed across the vast country
India, with a population of approximately 1.4 billion, is also attracting attention for its rapidly expanding consumer market.
In 2012, the ITOCHU LOGISTICS Group established IP Integrated Services Private Limited (hereinafter "IP") as a joint venture with a local company (Parekh Integrated Services Pvt. Ltd.).
With a total of approximately 750 employees, IP provides logistics services in India with 70 locations in 45 Indian cities, operating warehouses approximately 150,000 m2 . We have experience in handling a wide range of commodities, including major consumer goods manufacturers, daily necessities, food, and machinery.
Since consumption in India is evenly dispersed throughout the country, a well-organized logistics network is indispensable. Using IP's strength, a transportation network that covers the whole country of India, we deliver to 400 cities and 1,000 locations. For major consumer goods manufacturers, we transport products from factories to end users via trunk line and branch line transportation.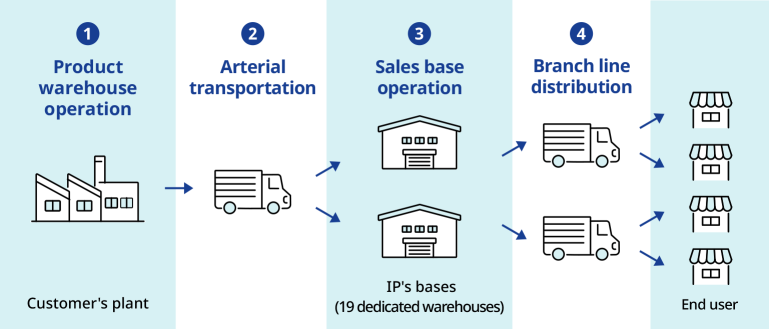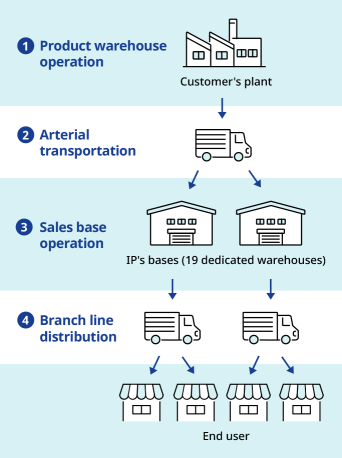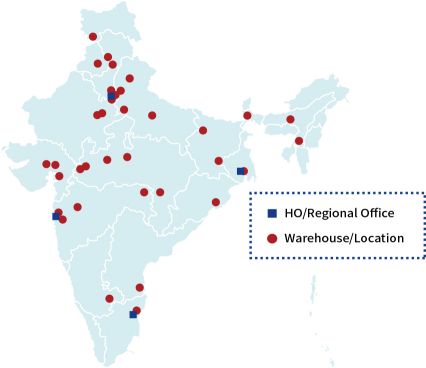 Vender managed inventory of a Japanese manufacturer
15,000 m2 warehouse on 30,000 m2 land
Indonesia has the world's fourth largest population and is expected to see economic growth in the future.
PT. ILC LOGISTICS INDONESIA has acquired 30,000 m2 of land in Suryacipta Industrial Estate (55 km from central Jakarta), an area where many Japanese companies have established operations. The company provides logistics services through three warehouses with a total floor area of approximately 35,000 m2, including the Karawang and Surabaya warehouses.
We have experience in handling a variety of commercial products, including consumer goods, automotive parts, and luxury goods. It mainly functions as a vender managed inventory store of manufacturers' plants and we deliver by JIT.
We have also proposed a container depot*1 scheme for raw material manufacturers. By storing and managing raw materials imported into Indonesia in containers at the depot, it enables timely delivery to factories within the country. Company-owned dump trucks are used for delivery.
*1 A container depot is a logistics base located inland, away from ports, and is a facility that has both customs clearance and bonded functions for import and export cargo. Various transportation routes can be selected originating from this location.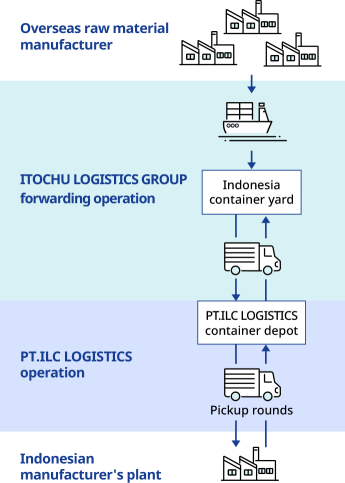 Comprehensive logistics services for finished vehicles in Thailand
We provide motor pool operation services for finished vehicles of Japanese automobile manufacturers.
Our main services include transportation, storage, receiving and shipping of finished vehicles manufactured in Thailand and Indonesia to the motor pool, transportation of finished vehicles to dealers in Thailand, and transportation of finished vehicles for export to overseas destinations.
In addition, we provide comprehensive services to our customers, including PDI (pre-delivery inspection), sticker application, installation of accessories and car washing before shipment.
Integrated Logistics Services (Europe)
Integrated Logistics Services to Japanese Automobile Assembly Plants in Europe
Eurasia Logistics provides comprehensive logistics services to Japanese automotive assembly plants in Hungary.
Parts Logistics: CKD*1 from Japan stuffed in Ocean container, Many kinds of parts from suppliers in European countries
On-site logistics operation: Parts warehousing in assembly plants, operation of motor pools for finished vehicles
Finished vehicle transportation: Transportation of Finished vehicles (truck, rail, and marine) within Europe and to Japan, Central and South America, Oceania, and other countries.
In addition, our service menu also includes support for local procurement of parts, including involvement in commercial distribution, supply of packaging materials, and transportation and installation of production equipment and machinery. Our services are available not only to automotive assembly plants but also to parts suppliers.
*1 CKD (Complete knock-down) refers to a kit of parts for a single automobile that allows the entire vehicle to be assembled locally.
Import Customs Clearance Services for Mexico
Mexico's Previo (customs broker's voluntary inspection) has many disadvantages and tends to be a vested interest for customs brokers to collect additional fees. There is little advantage for the importers, particularly for equipment customs clearance. We avoid this Previo, and achieve on-time delivery, reduced extra costs, and safer transportation.

Taking on the challenge of business that goes beyond logistics on the global stage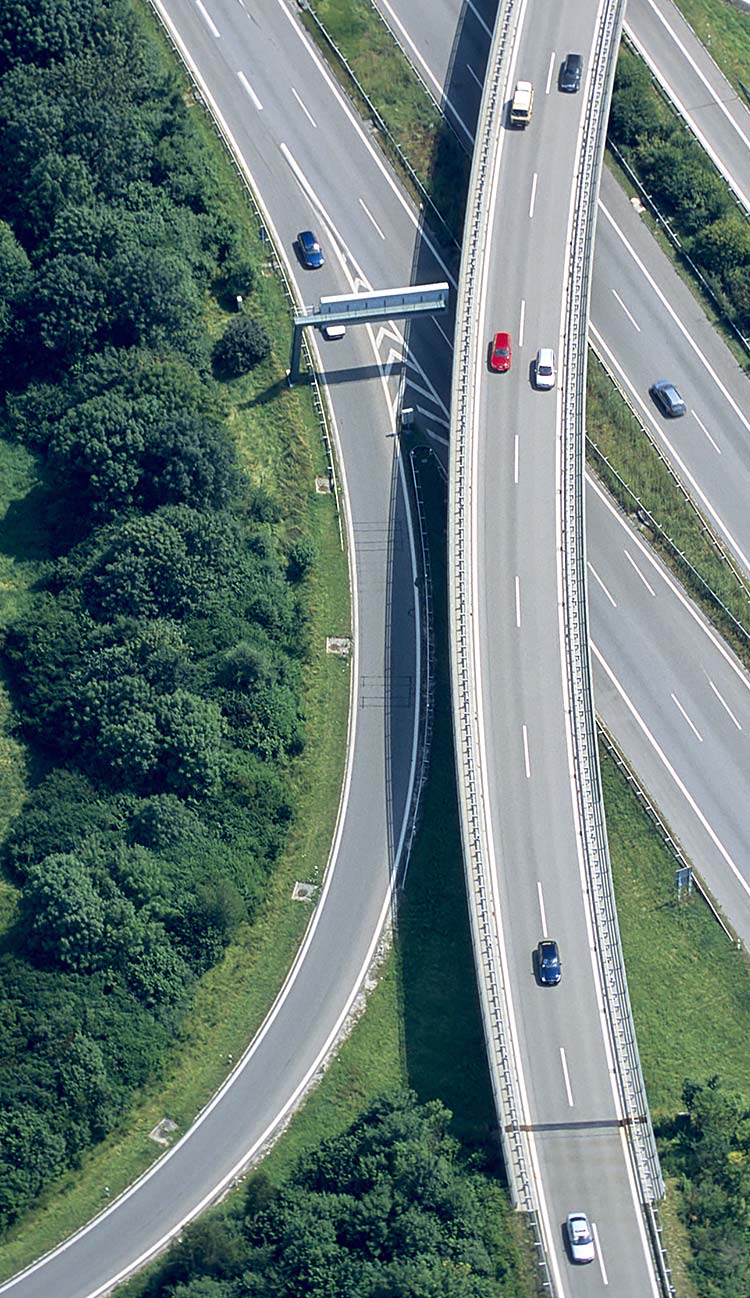 Taking on the challenge of business that goes beyond logistics on the global stage
Domestic & Overseas bases
Domestic bases
Overseas bases